By Deja Becknell, BSN
nutraMetrix Health & Nutrition Writer
It's estimated that sleep-related problems affect 50 to 70 million Americans of all ages and socioeconomic classes.1 An estimated 35% of adults report less than 7 hours of sleep during a typical 24-hour period. Up to 11% of adults say they struggle to get sufficient sleep at all.1 This chronic lack of sleep typically impacts their ability to focus, perform at work and complete daily tasks. As a result, people often opt for artificial energy with a few cups of coffee, hoping to power through the day without ever adjusting their sleep routine. This routine can have long standing health consequences.
April is Stress Awareness Month, which makes the perfect time to highlight the importance of sleep and how much sleep habits can impact our well-being. Sleep is an essential component of survival for humans, just like air, water and food.2 The way you function, think and feel overall depends on the quality of sleep you're getting. It is during this time that your body performs its hardest work as it presses the "reset" button to prepare you for a new day.
Sleep Drive and the Circadian Rhythm
Circadian rhythms help coordinate various mental and physical systems in the body, in turn, affecting our sleep drive. Let's talk about the importance of one of the most well-known circadian rhythms, the sleep-wake cycle.
The hypothalamus is a task master in the brain responsible for temperature regulation, appetite, our stress response and critical in the maintenance of hormones. The hypothalamus must fine tune and regulate when the body is challenged. The circadian rhythm coordinates with the hypothalamus to send various signals to that part of the brain.3 Circadian rhythms can be thought of as 24-hour cycles that make up the body's internal clock, running in the background as you sleep, to help the body carry out essential functions and processes. This internal clock is directly influenced by environmental factors, especially light, which is why circadian rhythms are tied to the cycle of day and night.3
During the day, the body's exposure to light notifies our internal clock to send signals that keep us awake and active throughout the day. As evening grows closer, the clock initiates the production of melatonin, a hormone made by the pineal gland that promotes sleep, cueing the drowsy feeling you may experience.3 This daily rhythm aligns our sleep and wakefulness patterns to help create the stable cycle of rest the body needs. When the circadian rhythm is thrown off, the body can struggle to send proper signals, giving rise to a number of sleep issues. This can lead to someone struggling to fall asleep, waking up frequently during the night, or unable to stay asleep for extended periods of time.
There are many factors that can influence irregular sleep patterns, some of these include:
• Stress
• Noise
• Extreme temperatures
• Jet lag — change in time zones
• Excessive amounts of caffeine
• Smoking cigarettes before bedtime
• Use of phone or electronic devices before bed
• Drinking alcohol before bedtime
Few things impact our wellbeing and mental health more than sleep. If you frequently feel tired with low-energy levels during the day, there are steps you can take to improve your overall quality of sleep. This can include limiting phone and laptop use, maintaining a comfortable bedroom temperature, minimizing exposure to noise and natural/artificial light, avoiding caffeine or alcohol and investing in a comfortable mattress and pillow.
How Much Sleep Do I Need?
Adults should try to get seven to nine hours of sleep each night. More important than the exact length of time in bed is feeling rested when awakening and having energy throughout the day. If not, make changes to your sleep environment and allow more time for sleeping.
Make the Most of Your Rest with nutraMetrix® Prime™ Sleep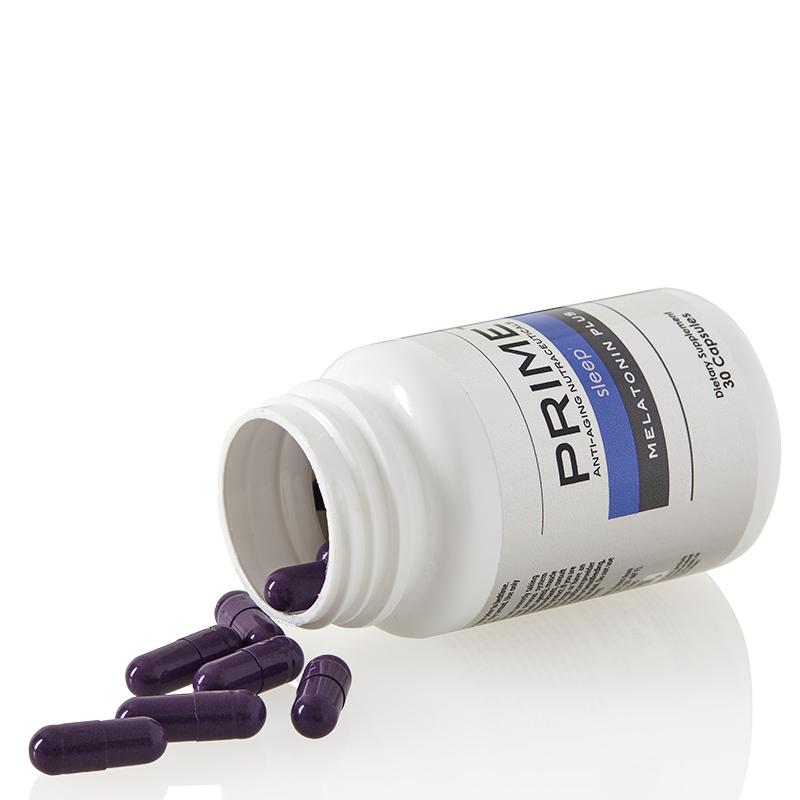 Need a little extra help to support your sleep quality? Supplementation can be a great option when combined with healthy sleep habits. Composed of complimentary ingredients such as valerian root extract, hops extract, and a quality amount of melatonin, nutraMetrix® Prime™ Sleep is formulated to help you with the total quality of your rest by helping you relax and drift off to sleep. It can also help you stay asleep throughout the night and improve overall sleep quality, so you wake up feeling refreshed and revitalized.*
*These statements have not been evaluated by the Food and Drug Administration. This product is not intended to diagnose, treat, cure or prevent any disease.
Primary Benefits of nutraMetrix® Prime™ Sleep include:
• Promotes sleep
• Promotes relaxation
• May improve sleep quality
• Helps you fall asleep
• May help you stay asleep
A good night's rest should be a priority 365 days a year, as sleep plays a vital role in the strength and wellness of your being. On average, sleep represents a third of every person's life, having a great impact on how we live and function during the other two-thirds.1 Proper rest can help reduce stress and irritability, improve your energy and concentration and support your immune system. Simply sleeping is not enough, restful sleep is the key to clarity and a properly functioning mind.
Article Sources:
The State of Sleep – Health in America. SleepHealth. https://www.sleephealth.org/sleep-health/the-state-of-sleephealth-in-america/.
What is Circadian Rhythm? Sleep Foundation. (2020, September 25). https://www.sleepfoundation.org/circadian-rhythm.
Looking After Yourself: Sleep. Sleep & Insomnia Self-Help Resources – Information Sheets. https://www.cci.health.wa.gov.au/Resources/Looking-After-Yourself/Sleep.