By Deja Becknell, BSN
nutraMetrix Health & Nutrition Writer
Although getting all of the vitamins and minerals our body needs through diet is ideal, adding supplements to your regimen can be a great addition to a healthy lifestyle. The nutritional requirements of the human body change as we move through different life stages. Let's discuss how a high-quality multivitamin supplement can help create a solid foundation of health.
Why Should I Take a Multivitamin?
Everyone needs vitamins and minerals, because they help release energy from our food and help build muscle, bone, blood and other vital tissue. No matter which diet you follow, it isn't always easy for your body to get all the nutrients it needs from food, all the time. A daily multivitamin can help fill in these "gaps" and make sure nutrients are used efficiently. For example, calcium is well-known for its benefit to bone health, but it actually works better alongside other nutrients such as magnesium, vitamin D and vitamin K. In areas where diet may fall short, a multivitamin can be beneficial for every life stage. Let's discuss some of the most important nutrients for every age group.
Children
Making sure your children receive proper vitamins and minerals can be a challenge. It's important to ensure that children receive all the essential vitamins and minerals required every day, and in sufficient amounts, especially during their growing years. Children's needs can often vary, depending on their growth and level of physical activity.
Calcium, zinc and vitamins A, C and E are some common vitamins and minerals that children generally don't get enough of.1 Calcium is needed in the bone-building years and a proper calcium intake beginning at childhood can help maintain normal bone mass later in life. Zinc is a vital nutrient for proper growth and development as well as immune function. Vitamins A, C and E are also important during childhood and throughout life. These vitamins help to support healthy vision, brain development, immune support and more.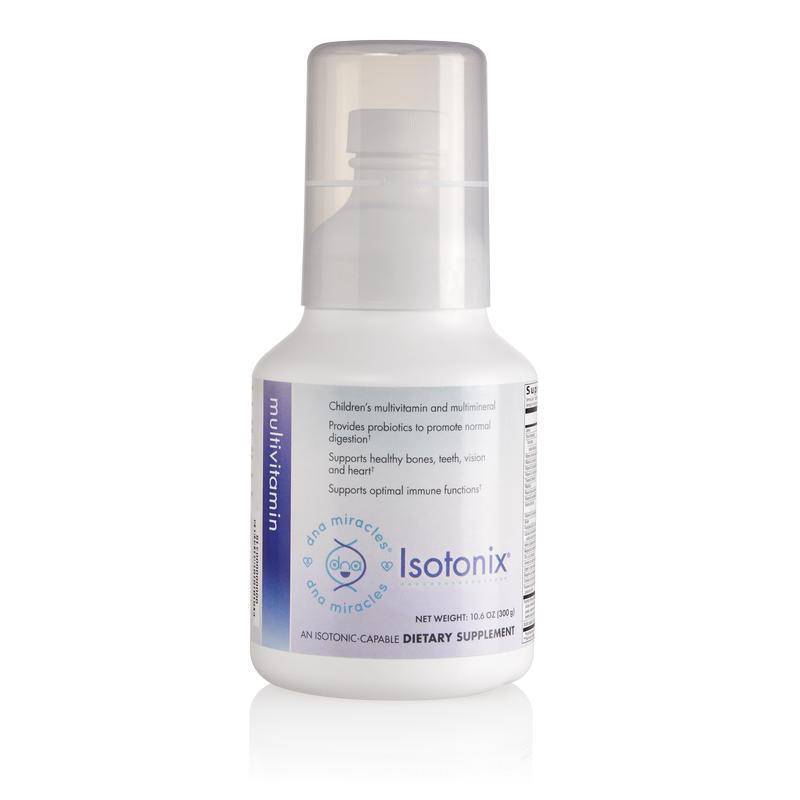 With nutraMetrix DNA Miracles Isotonix® Multivitamin, you can rest easy knowing that you're providing your child with a complete multivitamin containing 100% or more of 13 essential vitamins and minerals (more than some leading commercial children's multivitamins), as well as beneficial phytonutrients your children need to help their growing bodies remain healthy and strong.* We've also included a special blend of probiotic – LactoSpore – that has been shown to support digestion, support the absorption of nutrients by the body and support your child's immune system.
Teens
Early adulthood provides a great opportunity to establish healthy habits that will be carried on into later life. As children grow into early adolescence, there's a noticeable surge in appetite followed by a growth spurt. They need increased amounts of nutrients to keep up with energy levels and the ravenous hunger that may have Mom making extra trips to the grocery store. Many young teens tend to fall short on their daily intake of calcium, iron, zinc and vitamin D. In addition to a well-rounded diet, adding a supplement to their regimen can provide many benefits.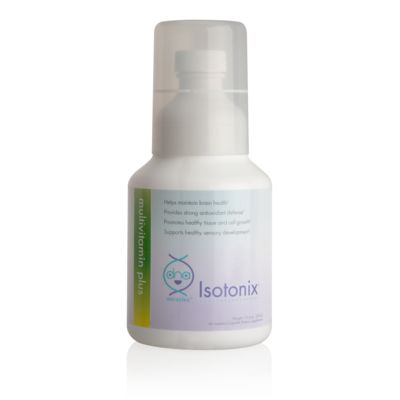 nutraMetrix DNA Miracles Isotonix Multivitamin Plus was formulated to support the needs of children needing particular nutritional support in the areas of digestive, neurological and metabolic health.* Not only can nutraMetrix DNA Miracles Isotonix Multivitamin Plus provide teens with necessary nutrients needed to grow and stay healthy, it also provides a carefully selected blend of vitamins and minerals chosen for their exceptional bioavailability. When your child needs extra support from their multivitamin, reach for nutraMetrix DNA Miracles Isotonix Multivitamin Plus – created with your young adult in mind.
Adults
When it comes to specific vitamins and minerals, many adults do not consume the recommended amounts, according to criteria set by the National Academy of Medicine. For example, studies show that more than 90% of Americans get less than the Estimated Average Requirement for vitamin D and vitamin E from food sources alone.2
It's pretty difficult to get all the vitamin D you need from food alone and many of us don't spend lots of time outside in the sun, so supplementation may be necessary. In addition to vitamin D and calcium, omega 3's are an essential component of great health for the average adult. Omega 3's can be found in foods such as salmon, mackerel, nuts and seeds (primarily flaxseeds, chia seeds, and walnuts) and plant-based cooking oils (avocado, coconut). Women who experience heavy periods may consider a supplement with iron to combat the possibility of an iron depletion, which can lead to increased tiredness and a lack of energy.
nutraMetrix Isotonix Multivitamin is an isotonic-capable food supplement containing 100% or more of the daily value of essential vitamins and minerals. This innovative formula helps to supplement dietary deficiencies and support normal metabolic functioning. nutraMetrix Isotonix Multivitamin is available with and without iron for differing nutritional needs.
Vegans often need extra vitamin B12, as it is mainly found in animal products.
Pregnant/Nursing Women
Prenatal vitamins are specially formulated multivitamins that help to make up for any nutritional deficiencies in the mother's diet during pregnancy. While they contain numerous vitamins and minerals, their folic acid, iron and calcium content are especially important.* Getting enough folate, a B vitamin, is especially important for women who are pregnant or may become pregnant.
Why do pregnant women need high levels of folic acid, iron and calcium?
Folic acid promotes the development of the fetal central nervous system, and healthy diets containing adequate folate may reduce a woman's risk of having a child with a brain or spinal cord defect. Folate is a B vitamin that promotes normal cell replication and growth. Natural sources include green, leafy vegetables, nuts, beans and citrus fruits. Calcium supplementation during pregnancy may also help an expectant mother maintain her own bone density as the fetus requires calcium for optimal bone growth. Iron helps both the mother and baby's blood carry oxygen. While a daily vitamin supplement is no substitute for a healthy diet, most women need supplements to make sure they get adequate levels of these minerals.*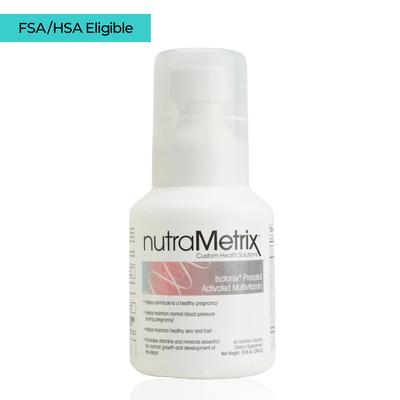 nutraMetrix Isotonix Prenatal Activated Multivitamin contributes to a healthy pregnancy and supports normal growth and development of a healthy baby. It promotes a healthy birth weight and helps the mother-to-be maintain normal blood pressure during pregnancy. A key component of this formula is the patented ingredient, Quatrefolic®, the most active form of folate. Since folic acid is one of the most critical nutrients for prenatal health, using Quatrefolic helps ensure your body has optimal utilization and bioavailability. Did we mention nutraMetrix Isotonix Prenatal Activated Multivitamin also tastes great and has a soothing, lemon-lime flavor?
Seniors
Adequate nutrition during the golden years has its challenges. As we age, there are nutrients the body absorbs less of as you get older, so it's important to be sure we're getting the right vitamins and minerals. Even with a healthy, balanced diet – mature adults may still experience
smaller appetites, loss of taste and dietary restrictions due to concerns related to aging. These factors alone can impede adults from achieving optimal nutrient intake and living life to the fullest. People over 50 should take special care that they are getting enough B12 – found naturally in meats, fish, eggs and dairy products, along with folate – found in animal products and leafy vegetables. Getting enough B12 and folate supports the formation of red blood cells and promotes healthy nerve function. Adequate intake of these vitamins can also help support liver, heart and cognitive health.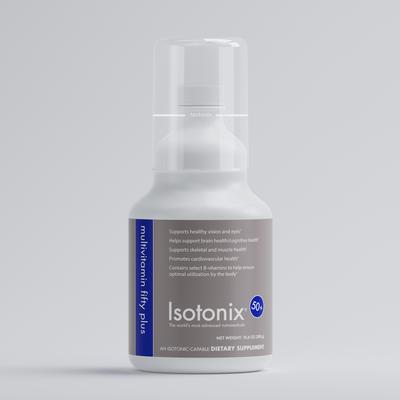 In addition to needing additional vitamins, aging adults require added minerals as well. Some of these minerals include magnesium, chromium, potassium and zinc. nutraMetrix Isotonix Multivitamin Fifty Plus is an isotonic-capable food supplement formulated with a broad spectrum of nutrients that help support the health of adults 50+. Only nutraMetrix Isotonix Multivitamin Fifty Plus contains a unique blend of vitamins and minerals with the superior delivery of Isotonix, which makes them easier to take for aging adults.
.
Multivitamins are just a small part of a healthy lifestyle and shouldn't be a substitute for a balanced diet consisting of fruits, vegetables, whole grains, good protein sources, and fats. But many people don't eat a balanced diet all the time, and this is where supplementation can be helpful to fill in the gaps. At every life stage, nutrition and regular exercise should build a foundation of good health. Knowing which nutrients may be of increased importance can help you choose the best foods and supplements for your current age and lifestyle.
Talk to your doctor to determine what nutrients may be best for you to supplement and to make sure there are no other issues or complications with other medications.
*These statements have not been evaluated by the Food and Drug Administration. This product is not intended to diagnose, treat, cure or prevent any disease.
Article Sources:
Micronutrient facts. (2020, December 03). Retrieved May 1, 2021, from https://www.cdc.gov/nutrition/micronutrient-malnutrition
Should I Take a Daily Multivitamin? (2020, July 23). Retrieved May 1, 2021, from https://www.hsph.harvard.edu/nutritionsource